Owen Bergwin – Founder
Jeff Reinhard – Co-Founder
The Many, Many, Many Volunteers through each stage of the Parks Growth
Jeff Reinhard & Donny Melvin – Walk Way Pillars Stone Work, Land Prep
                                                          & Clearing, Construction
Randy Alberts – Land Prep & Clearing, Construction
Rol Grabenkort – Construction & Monetary Donation
Van Gemmert Memorials – Tribute Stone Engraving
DC Automotive "Corby" – Installing Arch
Door Devils MC – Land Lease for Park, Numerous Benefit Rides, Maintenance, Up Keep, Construction
"Bingo" – Memorial Poem at Dedication Ceremony
Yohanek Family – Monetary Donation $5,500
The Commercial Club of Hortonville – Monetary Donation $1,000
Joe & Amy Stich – Flowers & Stone Laying
Motopsychoz MC – Annual Benefit Rides
Magneto's MC – Benefit Rides
Pat Wagner & Family – Donated Tree in Remebrance of Jerry Wagner
Sund Landscaping – Larry & Sam – Stone Work
Neil Kinnard – Pavilion Construction
Robby "BeerCan" Berkahn – Construction Prep, Forms, Concrete Slab
Lakeshore Landscape – Donated Flowers
Karen "Fingers" Nicholson – Club Events & Exhibits Promoting Memorial Park
Business Support
The Music, Art & Theater Guild 
JJ's La Puerta Restaurant
Husby's Food & Spirits
Newport Resort
Casey's BBQ & Smokehouse
Bhirdo's, Bayside Tavern
Hideside Corner Store
Door Peninsula Winery
Cherrydale Farms
Pizza Bowl in Algoma
Hitching Post in Valmy
Cornerstone Bar & Grill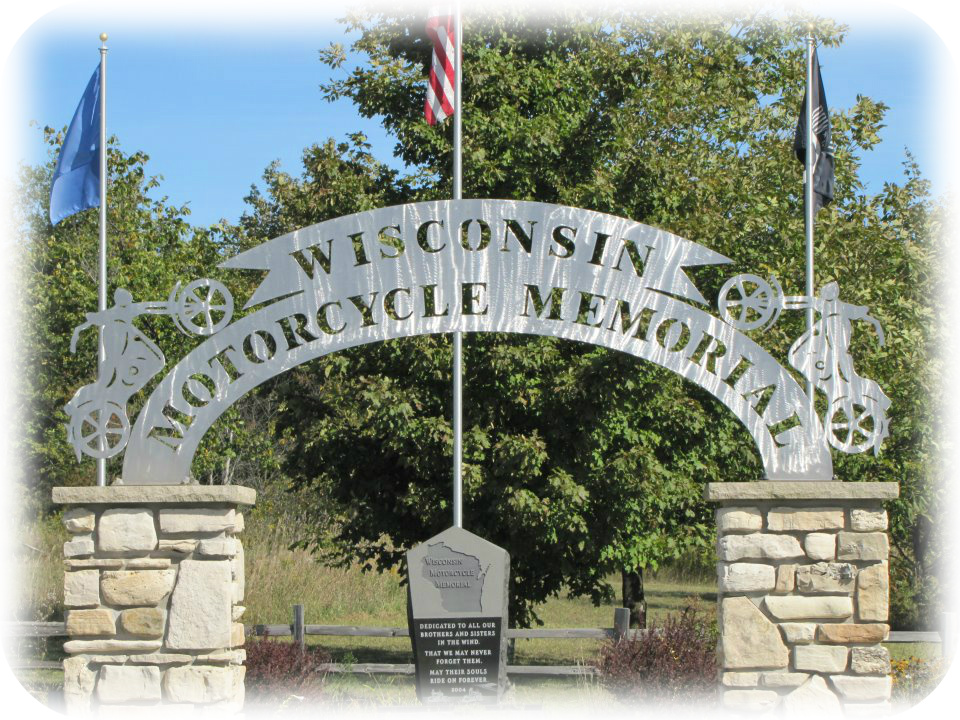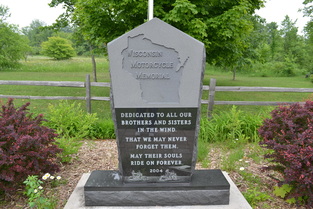 Van Gemmert Memorials – Main Memorial Remeberance Stone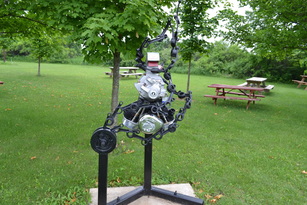 Doc's Harley Davidson – Donation Box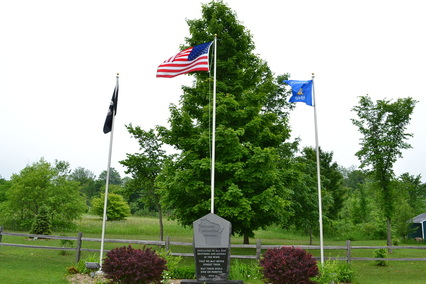 American Legion Riders Association of Wisconsin District 9 – Flag Replacement Yearly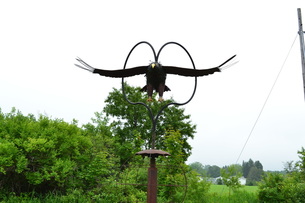 Art Weborg (Artwork), Sister Bay – Eagle Statue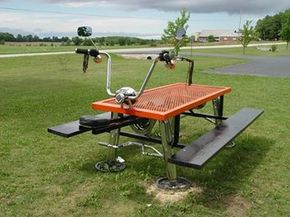 Top Hats MC – Picnic Table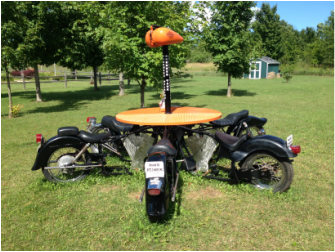 All the frames were donated by six different clubs. They are The Top Hats M.C. Crusaders M.C. Ozaukee Guzzlers M.C. Rite O Ways M.C., Zodiacs MC and Door Devils M.C. – Brenner Tank donated the iron, Manowske Welding did the welding for the assembly process, Omni Glass and Paint donated paint and did some of the painting, Broughton Barrel donated the top and Anders Automotive Donated paint and some of the painting.
Memorial Dedication Poem
By Bingo: (DC Eagles MC)
Don't visit my grave and grieve for me –
For I won't really be there!
I'll be with a lot of brothers and friends
And I'll tell you now – just where:
We're all together up in Door County –
Where many bikers that die all go –
And we meet again – at the "Memorial Walk"
There are some there I am sure you know!
So come on up with some friends
And visit – Drink a toast or two.
We're going to be here for a very long time –
Because we will be waiting here – for you.
I hope you've got many more years to go –
And many more miles to ride!
But when your time comes – I hope –
You'll join us bikers here – when you've died.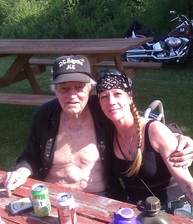 -Sad News Everyone –
-Bingo Passed Away-
Although he already has a stone at the Memorial, we can now fill in the "?" with 2015.

RIP Bingo – 1924 to 2015
Here is another poem about the Motorcycle Memorial by Bingo

-Remember Me-
I have lived a good life – to a ripe old age –
Good Brothers – in "My Book"- on every "page"!
But there's one thing I'd like there to be –
That's a brick in the Memorial Walk for me.
It's a Memorial for bikers in "Harley Heaven"
In Door County off Highway 57.
The money is in my will for that to be –
So someday go look – and remember me.
-Bingo-